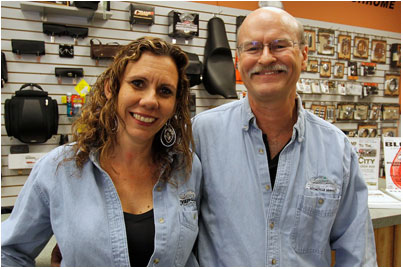 Welcome to Everglades Motorcycle Service! We'd like to invite you to vist our shop and experience the Everglades Motorcycle Service difference.
We offer everything from sales to service; motorclothes to accessories. If you need an expert, we have the experience and knowledge to help you with all your motorcycle needs. With a shop that is set up to do just about anything, we are able to offer everything from regular factory services to performance upgrades. Bring us your dreams and ideas, and together we can work to make them a reality!
We specialize in Harley-Davidson and American V-Twin motorcycles. With more than 18 years in business, our sales and service team has over 50 years experience in the motorcycle business.
Locally owned and operated, we are honest, friendly and professional. Your complete satisfaction is a first principle with all of our loyal customers!
REMEMBER! We are an Authorized Full Service Harley-Davidson Extended Warranty Facility








We look forward to seeing you soon!

Lynn and Michele